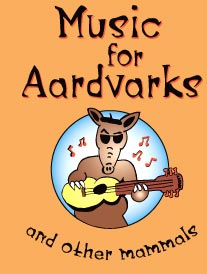 Phone Emily for more information:
07886 927081

"Brighton's favourite
preschool class"
as voted by parents on netmums.com
Music for Aardvarks is a groovy kids' music class that both children and their adults look forward to. Each session features a wide variety of fun musical activities including singing, dancing, musical story-telling and instrumental jam sessions.

The classes are centred around rockin' original music that incorporates influences from rock, pop, indie, folk and blues, and provides a fertile musical environment geared to the real lives of kids from 6 months to 4 years.
Music for Aardvarks unique approach to kids music has been going great guns since it was launched in 1997 in New York City. And now for the first time it is available in the UK. Classes kicked off in Brighton in January 2006 and are a resounding hit with the kids on the coast!

The UK Aardvarks classes are run by Emily Hilson, an experienced and enthusiastic group leader, piano teacher (ask for details), professional symphonic violist and Mother of two, who's fascinated with the positive effects of music on early child development.